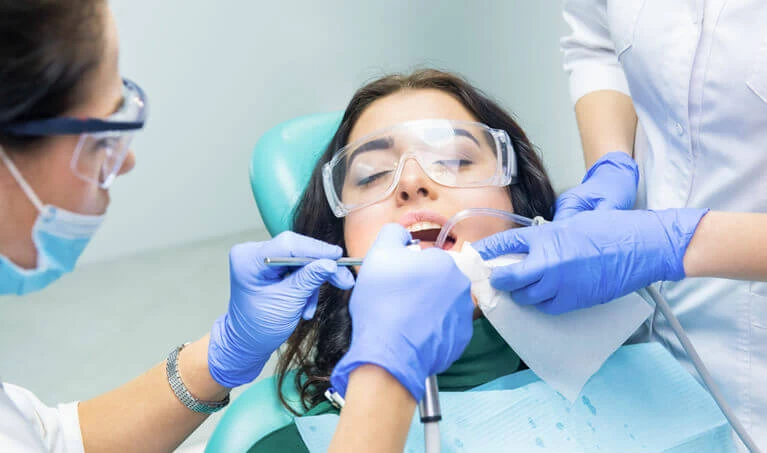 When Dr. Paul Majewski or Dr. Jordan Schumacher perform a more complex dental treatment, it is important that you follow their instructions very carefully to help prevent complications during the healing process. After your treatment, the dentists will provide you with specific post-op instructions; however, we have provided some general instructions below as a reference for you to review before and after your treatment. If you have any questions about your post-op instructions, we invite you to contact our dental practice in Franklin, Wisconsin, by calling 414-529-3933 and speaking with a member of our team.
Post-Op Care for Root Canal Therapy
You will likely be sore for several days following your root canal procedure. We recommend that you:
Avoid chewing on the side of your mouth where the procedure was performed
Take the prescribed antibiotic as directed
If you notice an increased level of pain or tenderness, have a reaction to the medication, or if your temporary restoration (filling) is lost, please contact our dentists as soon as possible.
Post-Op Care for Crowns & Bridges
You will receive a temporary crown or bridge while your permanent restoration is being created. Be careful while eating during this period, as your temporary restoration is not as sturdy as your permanent crown or bridge will be. Brush gently, and do not pull up on the tooth when flossing. Avoid sticky and chewy foods.
You may experience sensitivity or irritation after both the temporary and permanent crown or bridge are placed. This will go away as your soft tissues heal. Rinsing with warm salt water or taking mild pain-relievers such as Advil or Tylenol may help.
After your permanent crown or bridge is placed, you may feel a little awkward until your mouth adjusts. Within a week, your crown or bridge should feel like one of your natural teeth. If your bite continues to feel abnormal, contact our dentists.
Post-Op Care for White Dental Fillings & Bonding
You will likely be sensitive and sore after the anesthesia wears off. We recommend that you avoid eating and drinking for a few hours. Continue to brush and floss normally to ensure that your teeth remain clean.
Post-Op Care for Scaling & Root Planing
Following your scaling and root planing procedure, your mouth will be slightly sore and irritated for several days. We recommend that you:
Rinse your mouth with warm salt water (1 tsp. salt in 8 oz. water) at least 2-3 times each day to relieve pain and clean the area
Brush and floss normally after your procedure, but do so gently
Avoid hard and chewy foods for 2-3 days after your treatment
If you experience any swelling or stiffness in the area you can use a cold compress or icepack, or take pain-relief medicine. If you continue to experience pain or swelling after a few days, please contact our dentists.
Post-Op Care for Veneers
Prior to receiving your permanent veneers, you will be provided with a temporary restoration. During this period, you should:
Brush and floss gently
Avoid sticky and chewy foods
You will experience some sensitivity and irritation after the temporary is placed. This will subside after a few days, but you can also take a mild pain reliever (such as Advil or Tylenol) or rinse with warm salt water to relieve discomfort.
Your mouth will feel awkward for a few days after your permanent veneers have been placed, though you should feel normal within a week. If your bite continues to fell abnormal, contact our office.
Post-Op Care for Tooth Extractions
After your surgery, you will need to rest. The extraction site will bleed for a little while following your surgery, and if the gauze over the area becomes soaked you will need to change it. If bleeding continues for more than 24 hours, contact our dentists.
When you return home, be sure to rest, but do not lie flat, as this could prolong the bleeding. Instead, keep your head propped up. Take pain medication as prescribed, and use an ice pack to help reduce pain. If you are provided with a cleaning solution, use it as directed.
Eat only soft foods for a few days after your surgery. Some of the foods we recommend include:
Gelatin
Pudding
Yogurt
Mashed potatoes
Ice cream
Thin soups
And other foods you can eat without chewing
Do not use a straw when drinking, and avoid smoking or using tobacco products.
If you experience pain, bleeding, or irritation, or if you feel that the extraction site is not healing properly, please call Loomis Road Dental Center to schedule a follow-up appointment.